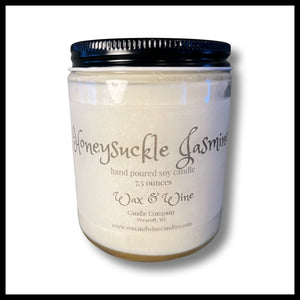 If you've ever spent a summer in the Southern US, you'll recognize the floral, honey-sweet aroma of our Honeysuckle Jasmine fragrance. This soft, dreamy scent opens with top notes of lemon and ginger before giving way to a heart of jasmine and honeysuckle. Hints of violet, powder, and amyris mingle with wood notes in the base of this well-rounded floral fragrance.
Scent Profile:
Middle: 
Jasmine, Honeysuckle
Base: 
Violet, Powder, Wood, Amyris
7.5 fl. oz.
Soy Wax 100% grown in the USA
Hand-poured in small batches